Students and staff at The Dukeries Academy are celebrating after receiving A Level and vocational results today. Despite the unprecedented national situation created by COVID-19, Dukeries Academy students have excelled.
89% of our 2020 cohort have applied for university and all have been offered their first-choice place.  We are delighted that 24% of students have secured places at prestigious Russell Group universities, including Oxford and Durham. Overall, the Academy achieved a 100% pass rate with 24% of grades at A* and A. These results show a significant improvement on last year with students now achieving an average grade of B at A level and Distinction in vocational courses.
Principal Ged Rae said, "I am delighted by the achievements of our Dukeries Academy Sixth Form students. Working with our talented and highly committed staff, they have achieved the success that their hard work and determination most certainly deserved.  Individually and collectively, I am confident that this group of young people will go on to be positive change makers in their own and other people's lives.  I wish them well."
Andrew Wilson, Executive Principal commented "At Academy Transformation Trust, we strive to ensure that our students are challenged and supported through a superb range of high quality courses which are continually developing in conjunction with our partner academies in Nottinghamshire including ATTFE and Sutton Community Academy, which is also celebrating record success including having Oxbridge as a student destination. Congratulations to staff at The Dukeries Academy for their hard work and to students for their commitment and efforts which have been rewarded with them able to move with confidence to their next phase of education, apprenticeship or employment". #TransformingLives
Whilst all of our students have done exceptionally well, we would like to highlight;
Louis Key who achieved our highest academic results with two A* grades and 2 A grades, including the EPQ. Louis will be going to Nottingham University to study Philosophy, and he is first member of his family to go to university.
Ben Hughes achieved three A grades and will be going to Oxford University (Merton College) to study History. This is a remarkable achievement, as Ben has overcome challenges related to dyslexia. He attended the UNIQ Oxford summer school, which inspired him to apply for a place. He has sat the Oxford HAT the History admissions test, undertook a two-day interview and was offered a place early in 2020.
Millie Barrett achieved our top vocational grades, achieving a C grade in Biology, a Distinction and a Distinction* in her BTEC qualifications. She will be studying nursing at Northumbria University. Millie is also the first in her family to go to university.
We are extremely proud of all of our students and particularly those students who will be the first in their family to attend university. We wish them every success in the future.
Millie Barrett opening her results.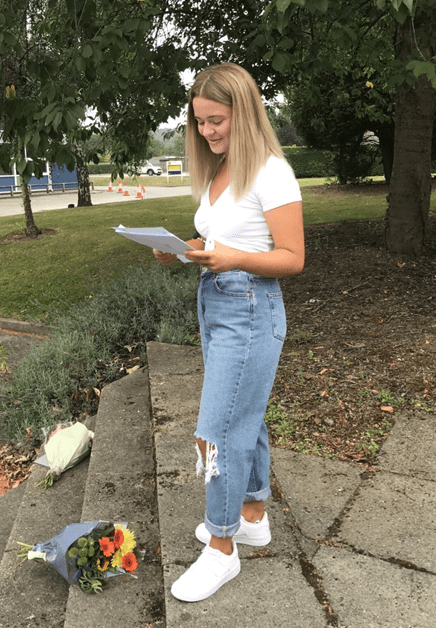 Ben Hughes celebrating his success.